The Ultimate CV Guide
21 July 2019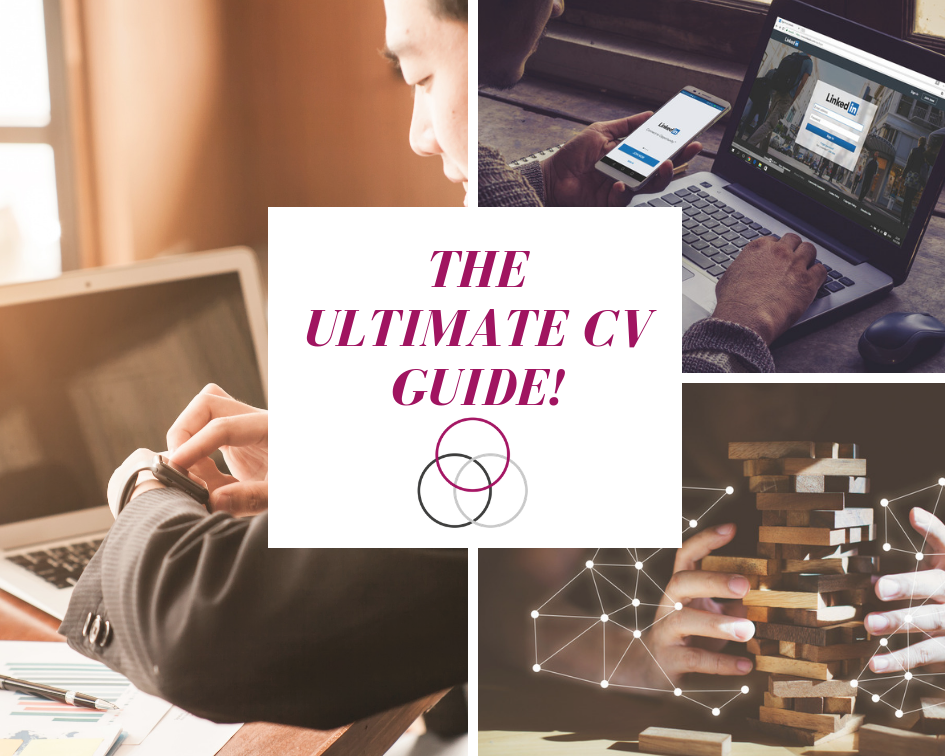 ​​Your CV is a summary, do not write an essay detailing every element of your education and career so far!
Use formatting that helps recruiters scan over the content i.e. bullet points, some white space, bold titles and succinct points.
Try to use normal margins and normal font sizes, if you're having to alter these then you're probably writing too much on the page. You ideally have two sides of A4 as a best practice guideline.
Don't use terminology that only your industry or your business will understand. Think about this from the reader's perspective and make sure everything you're writing is clear and simple.
Get someone you know to look over and proof read your work after you've been through and done your checks. Sometimes you've been over something so many times the errors are harder to spot so getting a second set of eyes to read over your work is invaluable.
Don't be too afraid to show some personality, link to your Linkedin profile and show some supporting content whether that be a portfolio or your blog. Culture is important so businesses are often looking at what kind of fit you will be within the current team, don't be afraid to be you!
Make sure you've done a check over your social media accounts and there is nothing inappropriate or contentious on there! Some business will check over your personal Facebook, Twitter and Instagram pages to see exactly what they say about you- make sure they get a good impression!
If it's not relevant, leave it off. You don't need to use up valuable space on skills or experience that are not at all useful for the role you're applying for. Think about the key ways in which you have developed the skills and confidence needed for that specific role.
If you're not writing a cover letter, make sure you have a clear and punchy opening statement at the top of your CV. There needs to be some kind of introduction so you should concentrate your efforts on two or three interesting points about who you are and what makes you the best candidate for the role.
The hobbies section still plays a role in building more of a profile on who you are and what you're interested in. Don't prioritise this section or fill it out too much but it's good to show you have other passions and interests outside of work.
You don't need to include your age, marital status or religious preference if it's not relevant.
This one should be a given, but no silly email addresses from when you were a teenager!
You can add some design elements to your CV but don't go too overboard, less is more.
Your CV should be specific to every role that you are applying for so make sure you tweak it to suit the industry and the specific job. This may seem like a time consuming way to apply for jobs but this is how you make the short list and stay on it.
For more info and advice give us a call or fill out a contact form and we'd be more than happy to help you with your job search and CV!
1. Keep it real!
Usually a CV should be no more than two pages – and that's two pages of A4 paper! Employers spend, on average, just 8 seconds looking at any one CV, and a surefire way of landing yourself on the no pile is to send them your entire life story. Keep it punchy, to the point, and save those niggly little details for the interview.
If you want examples then check out our free CV templates
2. Tailor it
We've all done it. Whizzed the same CV out to lots of employers to save time... Stop! Take the time to change your CV for each role that you apply for. Research the company and use the job advert to work out EXACTLY what skills you should point out to them. They will appreciate the obvious effort.
3. Include a personal statement
Don't just assume an employer will see how your experience relates to their job. Instead, use a short personal statement to explain why you are the best person for the job. This should be reflected in your cover letter as well see our tips to the perfect cover letter
4. Don't leave gaps
We are a cynical bunch and leaving obvious gaps on your CV immediately makes employers suspicious – and they won't give you the benefit of the doubt. If you've been out of work it can be a worry but just put a positive spin on it. Did you do a course, volunteer work or develop soft skills such as communication, teamwork or project management? If so, shout about it!
For more information, check out our CV template for the currently unemployed
5. Keep it current
You should keep your CV up-to-date whether you're looking for a job or not. Every time something significant occurs in your career, record it so you don't later forget something that could be important.
6. The error of your ways
Employers DO look for mistakes on CVs and if they find them, it makes you look really bad. David Hipkin, head of recruitment and resourcing at Reed Business Information, warns, 'With most employers experiencing massive volumes of applicants right now, giving them the excuse to dismiss your application because of avoidable errors is not going to help you secure an interview.' If you're unsure then use a spellchecker and ask someone else to double-check what you've written. And don't ignore the most common CV mistakes
7. Tell the truth
Everyone lies on their CV, right? NO! Stop! Blatant lies on your CV can land you in a whole heap of trouble when it comes to employers checking your background and references. The last thing you want is to start work and then lose your new job for lying. You also may get caught out at the interview stage when you suddenly can't answer questions on what you claim to know. And that can be VERY awkward!
8. The maths
This may sound dull but by backing up your achievements with numbers it makes selling yourself much easier. When writing your work history, don't just say that you increased sales; tell them you increased sales by 70% over a six month period. Get it? Big numbers are especially good (although don't forget point 7 of our list!).
9. Make it look good
We live in a world where image is everything, and that also goes for your CV. Take some time to pretty it up... Use bullet points and keep sentences short. Use the graphic design trick of leaving plenty of white space around text and between categories to make the layout easy on the eye. Alternatively, get creative with your job application!
10. Make it keyword friendly
If you've uploaded your CV to a job site so recruiters can find you, keywords are very important. Job titles and job buzzwords will help a search engine pick out your CV from the pile. Confused? Don't be. A marketing candidate might mention SEO (Search Engine Optimization), direct marketing and digital marketing among their experience and skills, for example... If you're not sure, have a search online and see what words are commonly mentioned when you input your job title.